Road Test: Lexus IS 300h
It's still unusual in its segment, but the IS hybrid makes a lot of sense, says Alex Grant.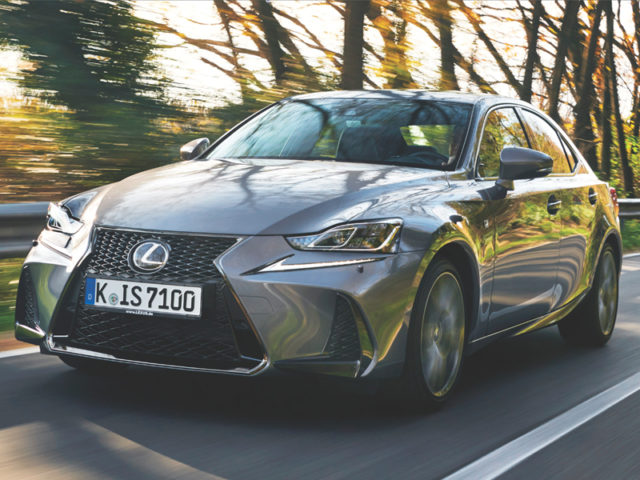 SECTOR
Compact Executive  
PRICE
€38,000-€53,000  
FUEL
4.2-4.6l/100km  
CO2
97-107g/km
In the 20 years since Toyota pulled the covers off the original Prius, it's shown itself to be a manufacturer with a taste for doing things a little differently. Particularly with Lexus; a premium brand with no diesel engines, and decidedly non-conservative styling, competing in segments where both are the norm.
The CT really began to broaden Lexus's corporate appeal, but the IS was a big part of defining what's now a range-wide identity. It made hybrid technology competitive in this segment, both in terms of price and performance, and with its split headlights and slashed bodylines it looked as different as the technology underneath. Given everything that's happened with diesel since, in some ways it was ahead of its time at launch, and we're only now due to see that potential grow.
Those aren't qualities Lexus has backed away from here; there's no diesel engine to appease the hybrid doubters, and no let-up in the styling with the late-life update. Quite the opposite; the new front bumper and reprofiled grille emphasise the IS's sharp edges, and the headlights are an even more complicated shape than they were before.
Ongoing benchmarking of the competition has pushed Lexus to alter the bodyshell, using different bonding methods to make it stiffer and more precise on the road. The suspension setup is stiffer and lighter too, particularly at the front end, and the steering is derived from the system in the GS – the aim is to offer a sharper, more rewarding drive and more feedback.
The hybrid system is pretty much unchanged, having been updated for Euro 6 emissions requirements a couple of years ago. It combines a 2.5-litre, 180hp petrol engine with a 143hp electric motor, plus a second motor-generator which starts the engine and converts otherwise wasted energy to an electrical charge, stored in a battery under the boot floor. There's a generous-sounding 223hp on offer when needed, and fully-electric driving for short distances depending on battery charge and the power required.
It's a mixed blessing; the IS 300h doesn't deliver the sort of straight-line performance that 220hp implies, the engine whirring reluctantly into life while accelerating, and offering little of the punchy torque delivery of a diesel engine. For all the reassuring poise that the chassis delivers, it's not an exciting drive.
However, as a long-distance car, it's blissfully laid back. The hybrid system is incredibly quiet most of the time, without the rumble and vibration of diesel power and slipping imperceptibly between petrol and electric power. It doesn't suit the sporty-looking IS as well as it does the GS, but drivers who can avoid over-working the petrol engine should see decent fuel economy.
So the IS is still bucking trends in the compact executive segment; a conventional hybrid up against diesel engines and a growing number of plug-ins. But, in its latest guise, perhaps its biggest talent is offering as close to that familiar diesel ownership experience, and being utterly unchallenging with it.What we think
In a segment with heavy user-chooser volume,  IS scores with styling, high levels of standard equipment and tax-efficiency. But incentives for plug-in hybrids could lure drivers elsewhere.