Interview: Gianluca Italia, FCA Group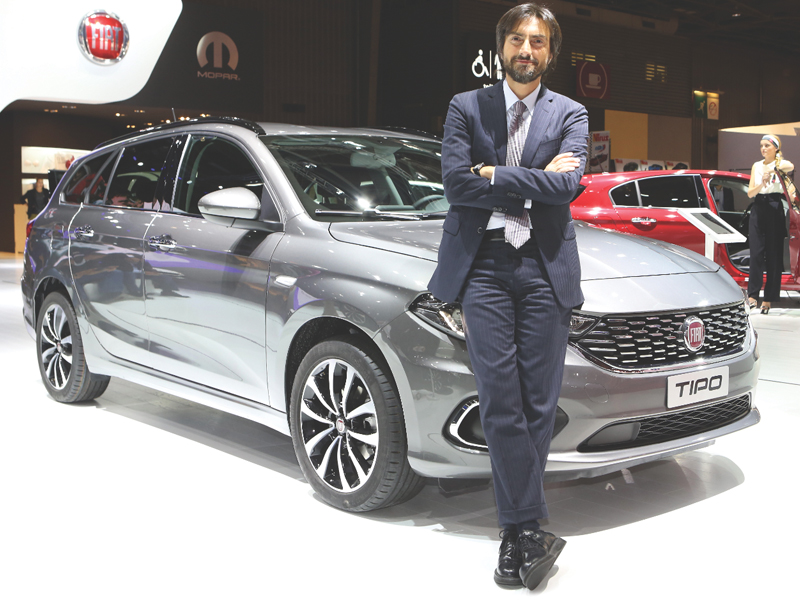 FCA is approaching the European fleet market on a group-wide basis, not as individual brands, as John Kendall finds out.
FCA – Fiat Chrysler Automobiles is now moving on from the initial phase when the company was establishing itself, having included its established European brands with Jeep and the North American Chrysler brands and is now expanding its operations.
At the recent Los Angeles Auto Show, Alfa Romeo launched the Giulia-based Stelvio SUV, which will also make its debut in Europe, probably at the Geneva Show next March. Reviving Alfa in the the US – Stelvio is the third launch since Alfa returned to the US – will help to give FCA a sportier profile, allied with more premium products than are available to the US operation through the Fiat brand.
Before the LA Show, at the Paris Show the previous month, we caught up with Gianluca Italia, managing director of FCA Italy and EMEA fleet and business sales director. How is the company progressing in its home territory?
"In general, FCA in Europe in 2016 is growing month after month," he says, "The good news is that we are basically growing in every market, more or less. Of course there are some markets where we would want more performance, but in general, we are seeing very sustainable growth."
Outside its traditional strength in Italy, Italia says that the company has a good presence in France and the UK. "The home market (Italy) is mainly driven by Fiat, so it's important to us as well." We asked about Spain too; "The Spanish market is characterised by a large volume of direct sales, meaning short-term rental, but we do well in Spain as well."
Italia is satisfied with FCA's current European performance in terms of registrations and also the quality of those sales. "In terms of profitability, this is in line with our expectations."
Tipo presents new opportunities
Italia points to new product that is important for the group, "Tipo family is a huge, huge opportunity and responsibility for us, because we simply were not present in the segment. We have two successful cars in the I-Zero segment, the Jeep Renegade and Fiat 500X, which somehow can fish in the C-segment, but now with Tipo, we are in the core of that segment and we do it with three versions. We have the sedan, the hatch and the wagon and these of course will open important opportunities for us.
"On the premium side of our product range, the Alfa Giulietta is already playing a key role, because when we speak about fleet, it is important to highlight the fact that we don't talk about single brands. We approach companies as FCA Group. So we really cover all products from Panda, 500, up to commercial vehicles, then Jeep Grand Cherokee. We believe and we have plans to further grow in 2017."
Italian experience
The Alfa Romeo Giulia is one of the more recent launches for FCA, launched first in Italy last July. Although there are no full year figures for registrations yet, Italia draws on the experience of the Giulia in the Italian fleet sector so far, "In Italy, we classify companies depending on the number of cars they have in their fleet. The most important group is made up of 400 medium enterprises. In two months we managed to introduce the Giulia in the car policy of 300 companies and this is a huge number.
"Of course, Italy is our own market. If we make the calculation, we were not as successful in the past in introducing new Fiat models or even Alfa Romeo. This has been a big positive surprise to us and it gives us the possibility of seeing the same kind of success for other countries."
Ride sharing and car sharing look as though they could offer big growth for the future, particularly in the fleet sector. FCA has decided not to enter the car sharing market directly, but to do so through partners. In both Italy and other countries, FCA supplies cars to car sharing partners.
Would FCA follow the lead of other manufacturers and make deals with Uber and others involved in ride-sharing? "Yes absolutely," says Italia, "As a supplier, there is no reason why we shouldn't be available to them."
As Italia has already suggested, where fleet business is concerned, FCA approaches customers on a group-wide basis, not as individual brands. "Our proposition as FCA means it is not really common to offer such coverage in the automotive market. We think it is more strategic to go with all our brands," he explains.
"Tipo family is a huge, huge opportunity and responsibility for us, because we simply were not present in the segment. Now we are in the core."
Middle East launch
Fleet business in Europe is mainly focused on the five largest markets: France, Germany, Italy, Spain and the UK. Different brands find other markets that are either strong or offer potential and for FCA, this includes Belgium, the Netherlands, Greece, as well as the Middle East and Africa.
"We are about to launch a strong offensive in the Middle East," say Italia, "We're looking at the whole region, working with importers there. Jeep has huge potential, but also RAM (FCA's US-based pickup truck and light CV business)".
RAM will be introduced to the Middle East at the end of 2016, along with Alfa Romeo. The pickups could be an attractive proposition for Middle Eastern buyers.
Fleet specialist dealers
Across Europe, FCA has been rolling out a series of fleet specialist dealers.
"This is an interesting project that we launched around eight months ago," says Italia, "It is already well established in the UK. In Italy we now have 50 centres and in France we are growing as well. We are basically doing the same everywhere in Europe, because we believe we need high standards of professionalism in our network when it comes to business."
The UK referendum result which favours leaving the European Union could have far reaching implications for the automotive business between the UK and the rest of the EU, "So far there has been zero impact on our performance," says Italia, "Also from the profitability point of view, again, so far, zero impact. I'm not so sure there would be such a dramatic impact. Let's see what the future brings us."
For more exclusive interviews, click here.