Loud and clear – The rise of DAB radio
For some drivers, in-car digital radio is a must. Having grow steadily over a number of years, there is now a drive to get more standard fitment – as well as retrofit technology being added. Dave Moss assesses the global market.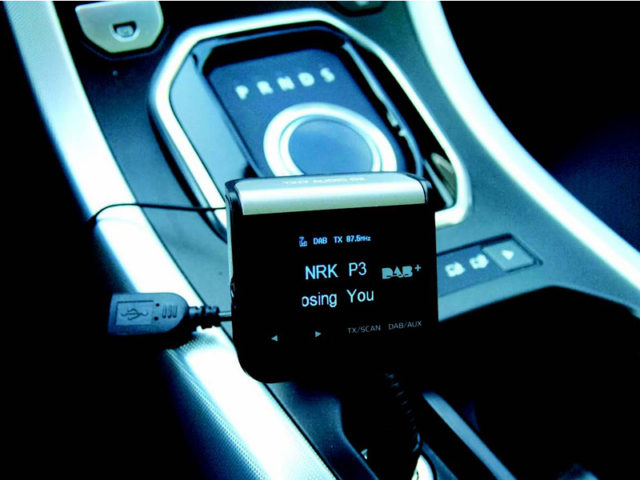 Digital Audio Broadcasting (DAB) already has a long history, with the first national network licensed in the UK in 1995. Soon after, the BBC began digital broadcasting of its five national services, and a commercial network opened in 1999. Several key European broadcasters began following the UK's lead, but until recently the spread of digital radio services has been generally slow.
"The first date I would really highlight is the German launch of DAB+ in 2011, but 2013 was the year digital radio in Europe really hit a tipping point," says Patrick Hannon, president of WorldDAB, a global industry forum providing detailed advice on switching from analogue to digital radio. "By then Norway, Switzerland, Denmark and the UK were all well established markets, and German population coverage exceeded 80%. It was also the year when receiver sales really started to take off, the Netherlands launched national DAB services, Italy started its first local broadcasts and France announced services in Paris, Nice and Marseille."
Kevin Hamlin, senior automotive analyst at IHS Markit, feels lack of promotion may have held digital radio back: "I think one of the big reasons is people don't know what it is, or why they need to change. In the 1950s, when most people received news, entertainment and music via radio, everyone would have embraced DAB. Now people receive most media from the internet, smartphones, and TV. Lots of people still listen to radio – but its not the sole form of media."Listening figures
Surveys reveal over 20% of Europe's radio audience listens in vehicles, and World DAB has long been urging car makers to incorporate accessible DAB technology in the dashboard. Here, Hannon points to real progress in just four years. "During 2013, the UK confirmed local DAB coverage expansion to over 90% – and by early 2014 over 50% of new UK cars had suitable receivers," he recalls. "In 2016, a second national commercial service began – and by the end of the year 87% of new cars came with DAB as standard."
Recent research undertaken for World DAB by CAP/HPI and Jato Dynamics shows how manufacturers are supporting standard DAB radio installation. In the first half of 2016, across seven key European markets, fitment had almost doubled in four years – but still totalled only 1.7 million suitably equipped cars. Yet by early 2017, 98% of new cars in Norway, 86% in Switzerland and 87% in the UK included DAB radio as standard.
Broadcasters, listeners and car manufacturers alike have all reacted quite slowly to this changing landscape, but Hannon feels many lessons have been learned along the way. "There are a clear set of requirements for the successful launch of digital radio," he says. "Adequate coverage, improved content over FM, competitively priced, easily available receivers, in-car  equipment – and strong consumer promotion. We also need strong political and automotive sector support, appropriate regulation and cross-industry collaboration."
The European Broadcasting Union (EBU) is a public service media alliance with members across Europe. Its 2017 review lists 1206 national digital radio services, operating in 24 European markets. Over 800 are simultaneous broadcasts of FM programmes, with the rest new "digital-only" services, which greatly improve listener choice – because space isn't available for them on FM. Yet the EBU feels much work remains to drive digital forward, claiming that national governments, official regulators and public and commercial broadcasters all have different approaches and commitment to digital radio development and service provision. The EBU sees this lack of common ground as a big problem needing attention, saying: 'No market can make significant progress when its stakeholders have different views.'
Norway goes digital
One European market that has definitely made progress is Norway, which in 2015 decided to switch to all-digital DAB radio in January 2017.
That switchover went ahead smoothly after lengthy publicity campaigns – and all the country's national analogue FM networks will be silent by December. Reports last year suggested the public were not entirely convinced about the switchover, but Ole Jørgen Torvmark, chief executive of Digital Radio Norway, co-ordinator of public and private radio channels throughout the process, says: "You cannot make a transition like this with everyone in favour, but most listeners have been well prepared, and seemed to manage the change in a good manner. Most like digital radio, as it offers a greater variety of channels. In general people like the content and noise-free sound, which is reflected in listening figures, but the upgrade in cars causes practical questions."
Asked about the difficulties faced by car owners in upgrading systems, Torvmark says: "The audience have been able to find a preferred solution. Car-adaptors have been available at reasonable prices for several years, with a range of suitable solutions. People can fit units themselves, but seem to prefer the help of authorised personnel. Antenna installation needs good guidance – and introducing a new radio-transmission network also means explaining coverage differences to the public."DAB in other regions
Unsurprisingly Norway is seen by the EBU as the digital radio revolution leader – but Switzerland is another front runner, now delivering the best digital radio population coverage in Europe. It could become the second all digital radio market, with switchover planned between 2020 and 2024. A total of 324 services on air – 111 of them digital only –make the UK another leader, with a government-set preliminary target of 50% digital listening before changeover. Audiences are growing steadily, and some predict this level could be reached in 2018. Denmark is also on the digital leaderboard, with Germany, the Netherlands and Malta close behind, all with established networks. Another six countries have launched DAB+ services since 2011, including Italy, which is actively exploring the benefits of much-enhanced traffic information services. The Italian South Tyrol region is expected to start closing some FM transmitters this year.
Global interest in DAB broadcasting is growing, with regular services in Australia, Kuwait and South Korea. At least 10 countries have trials planned or under way – including China, New Zealand and South Africa, while other territories considering possible DAB services include Vietnam, Singapore, Bulgaria, and the Russian Federation. However some countries remain cautious. The Czech republic has recently postponed national DAB development until 2021, despite 29 existing services, receivers costing around €12 and car units available as manufacturer options. Others, like Austria, Ireland and Spain, are running trials, seeking listener reaction while watching market developments. Sweden is reportedly planning FM network expansion, while some, such as Finland and Hong Kong, have already tested DAB – and decided not to proceed.
The future of digital radio
Today, radio lives in an age where there is an app for everything – on mobile phones providing instant on-line flexibility. With such connectivity, and manufacturers working towards better-connected cars for entertainment and information access, broadcast radio faces a tough question: can it hold its place in future vehicle dashboards? Hannon thinks it can. "There's very little evidence that radio is being left behind – in fact it's something drivers say they wouldn't give up," he says.
"Across Europe, we listen to the radio for almost two and a half hours daily, and about 85% of people listen every week. Last year WorldDAB set up a group to look at the automotive user experience – delivering the best possible experience for drivers, now and in future. Smartphones are of course an alternative, but data is expensive, mobile coverage for streaming is patchy – and it can't be relied upon in emergencies or for driver safety."
Digital radio also brings new possibilities – like pictures, graphics, interactivity – and much more. RadioDNS is a not-for-profit organisation, with worldwide membership of broadcasters and car makers keen to explore 'hybrid radio' – specially developed technology that 'closes the loop' allowing digital radio and the internet to bring a new, interactive channel to vehicle occupants. "We believe the extended functionality of hybrid radio techniques can deliver a broadcast radio experience matching the best of any connected car apps, but with better reliability of reception and ease of use," says RadioDNS project director Nick Piggott.
RadioDNS is already operational at over 1900 stations, but much potential remains unexplored, suggesting an exciting road ahead – which could connect into the daily lives of fleet managers and their drivers. "Using Hybrid Radio techniques, it's possible to put targeted information on top of general information from a common source," says Piggott. "That might allow operators to provide broad information for a whole fleet, plus vehicle specific messaging – with lower distribution costs than by other methods.
RadioDNS allows operators to define their own applications, so there could be private use cases fitting the framework that we haven't yet thought of."The Canadian non-conversion
On  December 3rd 1998 Canada became one of the first countries to trial digital radio – in the DAB format now extensively used in Europe, but on frequencies very different from those now regarded as the system standard. Toronto, Vancouver, and Montreal were the first areas to benefit – although it was October 1999 before receivers were widely available – and expensive at C$999. Poor coverage, straightforward duplication of programmes already available on AM or FM, and costly receivers ensured little public interest. By 2005, broadcasters had abandoned Canada's DAB trials.
By then the neighbouring US had decided on HD radio, an entirely different, commercially developed digital standard, which, unlike DAB, works alongside existing broadcasts. The Canadian Broadcasting Corporation began HD Radio tests in Toronto and Ontario in 2006, and Canada's Radio, Television and Telecommunications Commission now allows HD Radio broadcasting – under certain conditions. Bordering the US, suitable, relatively inexpensive receivers can be found, and some new cars have them fitted. Yet 20 years on, Canada remains digitally reluctant: in 2016 in this vast territory just 14 local or regional HD radio services were broadcasting, and the country's future digital radio policy is uncertain.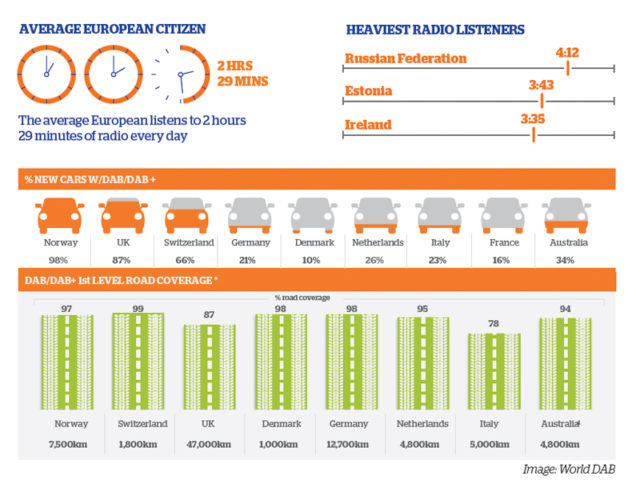 Traffic information improvements
Digital radio has a big bonus in one of business drivers' most-used features – traffic information. Available on FM car radios for many years in some countries, locally switched audio traffic bulletins have helped to keep traffic on the move. A background system known as RDS-TMC also delivers traffic congestion information for satellite navigation systems. However, its restricted by data capacity alongside FM radio channels, making this a slow and limited system, largely restricted to incident information.
Today, faster and more flexible T-PEG data can easily be included in DAB broadcast channels, allowing transmission of more relevant data, more quickly. This can include live traffic flow information, and predictions about the situation at a future time when the vehicle reaches a specific point. It also allows location of features on the road network, rather like GPS, and can provide various other services, amongst them fuel pricing, current local car park capacity, dynamic speed data and journey-related weather information.
The DAB technical specification also allows for digital multimedia broadcasting. (DMB) This facility allows graphic presentation of traffic/ travel and other information directly to the car dashboard, and its usage in Europe is growing steadily.