Stand-out performance for Tesla Model X in latest Euro NCAP tests
Tesla's Model X has achieved a stand-out performance in the penultimate batch of Euro NCAP tests for 2019, which also saw the Porsche Taycan score highly.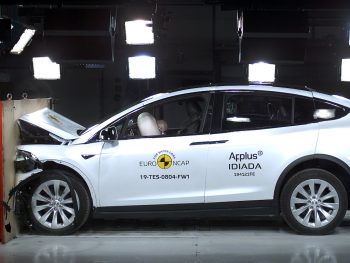 One of 12 cars tested this time, the Model X registered 94% for Safety Assist; the same as the Model 3 in tests earlier this year and making the pair of Teslas the best performers in this part of the assessment using Euro NCAP's most recent protocols. The Model X also achieved 98% for adult occupant protection, making it a strong contender for Best in Class this year.
Matthew Avery, director of research at Euro NCAP member Thatcham Research and a Euro NCAP board member, said the Tesla Model X achieved its category-leading score for a variety of reasons.
"The car performed exceedingly well in most assessments of its safety technologies," he said. "Where the Autonomous Emergency Braking systems fitted to some vehicles struggle to identify impact targets and brake too late, the Tesla Model X does so very early and brakes intelligently. Multiple cameras on the front, side and b-pillar, combine with radar to give it state-of-the-art performance."
The Porsche Taycan, the brand's first full electric car and a rival to the Tesla Model S and Jaguar I-Pace, meanwhile achieved 85% in adult occupant protection and 83% in safety assist – the second highest score of the year after both Teslas – and also scored an overall five-star award.
Other five-star winners were the Audi Q7, Renault Captur, Škoda Octavia, Ford Mondeo and Kuga, and Subaru Forester; with the latter scoring particularly well in child occupant protection.
Michiel van Ratingen, Euro NCAP's secretary general, said: "Well done to Tesla and the other five-star performers for not only bringing best in class performance in testing but also making safety systems accessible and standard across the European market. It is also good to see manufacturers – Ford and Volkswagen in this case – standardising AEB and keeping safety up-to-date even for older cars, to the benefit of their customers."