BMW 5 Series
The 5 Series isn't short of rivals, but it's still setting the standard, says Alex Grant.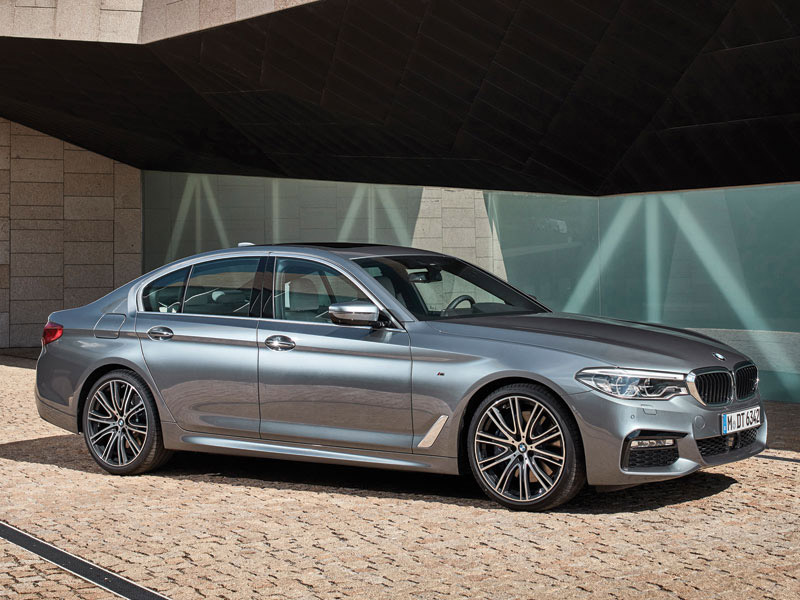 SECTOR Executive   PRICE €45,000-€83,000   FUEL 3.9-8.9l/100km*   CO2 102-204g/km* * excluding 530e plug-in
With 45 years, six generations and 7.9 million sales to its name, the 5 Series has always succeeded by sticking to a very specific, very appealing design brief. It's the brand-defining driver's car, the sedan that'll make light work of long highway journeys, yet feel just as rewarding when tasked with the scenic route home.
For drivers of the outgoing car, the latest addition to that bloodline certainly won't disappoint. It's a little larger in all directions than its predecessor, but also stiffer and lighter thanks to wider use of exotic materials and optimised construction. With a lower centre of gravity and weight perfectly distributed between its front and rear axles, it drives more like a coupe than an executive sedan; precise, confident, with almost no body roll, and grip that belies its size.
As there's less weight to move around, it's also making better use of BMW's brilliant diesel engines. They're more fuel efficient than ever, and offer improved performance without needing more power. From launch these start with the 190hp 520d, the likely best-seller in Europe, which returns 4.1l/100km with the eight-speed automatic gearbox, while delivering plenty of power when needed.
Even the 530d, a six-cylinder, 265hp Autobahn-stormer, consumes 4.5l/100km – the sort of economy which once made the old 520d EfficientDynamics a headline-grabbing car. With a plug-in hybrid and the 102g/km, 3.9l/100km new-generation 520d EfficientDynamics en route, it offers a strong line-up of engines from either the driver or operator's perspective.
Being a great driver's car hasn't blunted its luxurious alter-ego. Now bigger than the 7 Series of the late 1990s, there's room to stretch out both rows, with sculpted seats to suit most shapes and sizes of driver and an exceptionally well-finished cabin. It doesn't thump over rough road surfaces, even on 19-inch wheels, and there's barely any engine, wind or road noise at high speeds, though the 520d can be a little coarse when worked hard.
But BMW hasn't simply moved the old car's best points forward a generation. Adopting technology from the new 7 Series, there are options to equip it with a gesture-controlled dashboard, BMW's smartphone-like key with a colour touchscreen for remote status checks, and the ability to manoeuvre in and out of tight parking spaces with nobody at the wheel. Integration with the Amazon Echo system means it can remotely control domestic appliances and central heating, if drivers have internet-connected devices at home.
More relevant to fleets, BMW's advanced cruise control can now adjust itself based on speed limits, maintain a distance from the car in front and its position in a lane at speeds between a crawling traffic jam and 210kph. It also works with the Professional Navigation system, pre-planning braking for corners and built-up areas to improve comfort, and using forward-facing radar and camera systems to detect when it's not worth turning the engine off while stopped.
The latest version of iDrive is impressive, too. It's the first with a touchscreen as well as the rotary commander, and it's an incredibly responsive system with plenty of business-relevant features. Drivers can rearrange 'tiles' across the homescreen to access useful features quickly, and it connects to Microsoft Office 365 for remote access to e-mails, calendars and contacts.
But it has to push the boundaries, as there's never been more choice. Drivers have a multitude of luxury SUVs to pick from, as well as a widening range of saloons including the excellent new Mercedes-Benz E-Class. The tight design brief that defined the original 5 Series has never been more relevant, but it's also never been harder to live up to.
What we think
The 5 Series impresses not only for its cutting-edge technology, but because the car that's underneath does everything so brilliantly. Aside from the excellent new Mercedes-Benz E-Class, nothing in this segment comes close.