Country profile: Brazil's on the road to recovery
Autorola Brazil – through its online inspection and remarketing portal – is helping combat corruption, says country manager Marly Fialho Kierulf.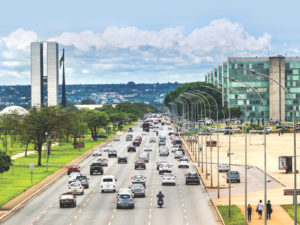 After a five-year economic downturn in Latin America it is expected that economies will continue to stabilise and drag themselves out of recession in 2017, with Brazil likely to recover the quickest. A rise in output of 11% is estimated by Anfavea, Brazil's automotive association, based on a small GDP growth, continued low interest rates and rising export demand.
Car companies are starting to announce investment again in the area with Toyota Motor Corporation and General Motors both announcing plans to pump money into Brazil.
Toyota is investing US$177m in its Porto Feliz plant to start producing engines for its Corolla model range, while General Motors' Chevrolet brand is investing US$3.8bn in developing new models.
The manufacturers are keen to be in a position to take advantage of increased export opportunities in the Latin America region as well as growing home market sales. Brazil's economy is set for the biggest growth in the region of 8% year-on-year until 2021.
The Brazilian fightback
Brazil's automotive industry has been hard hit by the region's economic downturn with a fall in production of 11% in 2016 to 2.16m from a high of 3.7m in 2013 and a reported production capacity of just 42% of its capacity of five million.
Ford still refrains from investing further in Brazil; VW South America is hopeful of sales stabilising and Toyota is struggling to make profit in Brazil in 2017. The top five new cars sold in April gives some idea that small low cost cars are popular new cars currently.
The top five cars in Brazil (April 2017)
Chevrolet Onix
Hyundai HB20
Ford Ka
Renault Sandero
Volkswagen Golf
One key area that causes challenges for companies in Brazil is the high levels of corruption in all areas of society, but Autorola Brazil has turned this to its advantage. After many years of meetings with the key car makers, dealers groups, rental companies and leasing providers demand for its vehicle inspection and online remarketing portal are reaching record levels in 2017.
The company decision maker likes the transparency that our connected range of vehicle inspection and online remarketing products has to offer. They like the fact that everything is open and transparent, right from the recording of an inspection of a car and upload of a vehicle's condition to the sales portal to the vehicle payment process. As such Autorola Brazil is more than just an intermediary of remarketing of vehicles. We present a demobilisation process, reflecting core attributes such as transparency, flexibility and accuracy. Our experience in Brazil follows according to our HQ and the culture of Denmark.
And they like the fact even more that Autorola is a Danish online business and that there is very little or no corruption in its home country. It gives them a confidence to use and trade on our online channels.
Continental links
European car companies, pharmaceutical fleets, rental and leasing companies as well as fleet owners are now investing extra time and resource to work with suppliers such as Autorola. The value of transparency is getting more and more appreciated and mandatory to fight corruption. We defend a new vision of the vehicle demobilisation process, offering proposals that follow the whole chain of strategic solutions that go beyond mere resales through IT intelligence for the demobilisation of semi-new and used vehicles.
On the back of a falling new market, the used car sector has continued to thrive with strong demand for smaller, low value used cars, eg from Toyota and Hyundai and at the other end of the market prestige brands such as Audi, Mercedes, BMW and Volvo and even Ducati motorcycles.
A car has an optimum used value at less than two years old and less than 30,000km on the road and the prestige stock is generating between 79% to-88% of Fipe (eurotax).
The lower and middle classes have been most affected by a recession but the upper classes continue to demand higher value prestige cars. For many months we could have sold double the amount of prestige used cars on our portal.
The Audi experience
Since 2014 Autorola Brazil has started doing inspections and online remarketing through Sales Cascade programme for Audi Brazil's management, press and HQ demonstrator cars. The used cars are inspected anywhere in the country using Autorola's online inspection system. The used cars are then uploaded onto the Autorola Brazil portal complete with images and a detailed breakdown of the car's condition.
Autorola works with Audi to fine tune prices to ensure stock is priced perfectly to tie in with market conditions before the cars go live. The three stage cascade auction offers the used Audis to its franchise dealer network first and then those that aren't sold, normally around 10-15%, are then offered out to Autorola Brazil's 6,000 active B2B buyers.
"Generally cascade sales have a conversion rate of 100% as buyers trust the process, the declared condition of the cars and know that they will only take delivery of the car once the funds have passed to the vendor. We as a vendor are in turn very happy. Once again at the transparency at the process, including receiving payment before the car is delivered from a registered Autorola Brazil buyer and ultimately we like the prices that we have been achieving," says Paul Dieter Lundberg, used cars manager at Audi do Brasil.
"Prices achieved have been at around 75% of a car's original cost, which is very strong. Importantly the reports that Autorola Brazil sends to the vendor every time the events are over, trace the car's life from when it is registered to when it is sold and who the buyer is. And if there is a query from a buyer, Autorola Brazil manages that in close co-operation with the used car team. The human element supporting the predominantly online proposition works well," adds Lundberg.
Clean car business
Autorola is now turning its attention to the rental and leasing industries as they are also keen to run a corruption free disposal operation. In July and August Autorola has been tasked with selling a few hundred used cars quickly to free up the vendor's cashflow and is just about to enter into an agreement to manage the inspection and remarketing of a major rental buy back deal.
We are doing out bit with our customers to ensure that good wins over evil. We hope the entire market will come round to Autorola's way of thinking in the next few years. Ultimately the automotive market is a big part of Brazil's industrial success story so it would be good to see that it was the first to achieve a zero corruption status with our help.
Brazilian economics
Although GDP improved notably in Q1 thanks to a record harvest of soybeans and improved sentiment, overall conditions are still weak and incoming data is mixed. Industrial production improved in April but growth remained slow, however, the current account recorded a solid surplus while the manufacturing PMI rose in May.
The sharp increase in political uncertainty led FocusEconomics analysts to downgrade Brazil's outlook this month. The panel sees GDP expanding 0.5% in 2017, which is down 0.1 percentage points from last month's forecast. The recovery is seen gaining speed in 2018 and GDP should increase 2.2%.
Retail sales (excluding cars and construction) rebounded in April after falling in March. Sales rose 1% from the previous month in seasonally-adjusted terms, which contrasted March's revised 1.2% decrease (previously reported: -1.9% month-on-month) and overshot market analysts expectations of a drop. The rise is a positive sign and points to recovering activity in the battered economy.
On an annual basis, retail sales increased 2.0% in April, which was an improvement from March's 3.2% decline. As a result, the trend rose and the annual average variation in retail sales came in at -4.6% in April, above March's -5.2%.
Panelists participating in this month's LatinFocus Consensus Forecast expect retail sales to increase 0.7% in 2017, which is up 0.3 percentage points from last month's forecast. For 2018, the panel sees retail sales growing 2.8%.
In April, industrial production rose 0.6% from the previous month in seasonally-adjusted terms, which contrasted March's revised 1.3% fall (previously reported: -1.8% month-on-month). The result overshot market expectations of flat growth as manufacturers gradually recover from Brazil's deep recession. Behind the upturn were gains in the production of intermediate and capital goods.
Looking at the wider issues in the country, testimony from a corruption scandal implicated President Michel Temer directly in May, unleashing a political bombshell in Brazil and casting doubt on whether Temer will fulfil his term. Although Temer has held onto power so far and was cleared by the top court of accusations that he violated campaign finance laws on 9 June, he is deeply unpopular and the government's implication in a corruption scandal is threatening its stability and effectiveness. The political chaos bodes poorly for the economy's battered recovery as reform momentum will likely slow as politics takes centre stage.
Source: FocusEconomics