Country profile: Turkish delight as used market booms
Recent tax increases in Turkey have affected both the new and used markets. Autorola Turkey's country manager Oguzhan Saygi looks at the impact of these taxes and outlines the country's very first used car guide.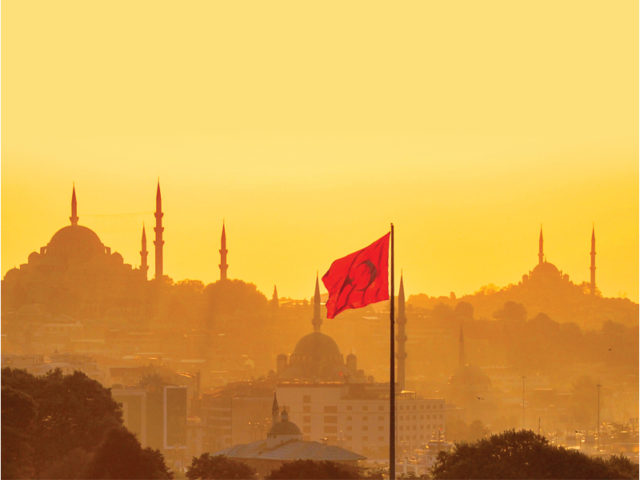 The Turkish Motor Show in Istanbul closed its doors on the last day of April having reported impressive visitor volumes. This show took on extra significance for the auto industry following the government's decision to increase its special consumption tax in late 2016.
In addition to an 18% rate of VAT, there is a 45% special consumption tax for cars below 1600cc which is calculated from the list price VAT included. This tax is rated at 90% for vehicles between 1,600cc and 2,000cc and 145% for cars with engines over 2000cc.
Models costing 40,000-70,000 lira have seen a price rise of around 3% thanks to the new tax and the government claims the changes will add around an additional three billion lira to its budget. More importantly the move hits those luxury cars that are imported from outside Turkey, therefore making the mass-market cars made in the domestic market better value for money.New car sales slow down
This tax increase has already stalled new car sales but has ignited consumer demand for used cars. The Turkish used car market is around 3.5 million used cars in size and is still in its infancy. Autorola has spent much of its first three years in the country helping set up processes with OEMs, rental and leasing companies and dealers to maximise the value of their used car stock.
Historically much of the used car business has been based just around Istanbul. The used market is now maturing quite quickly and trade buyers have been very open to purchasing used cars online.
Autorola has signed up 10 major vendors in the past 12 months which reinforces the response for online remarketing. Turkey is a big country and it is uneconomical to keep moving vehicles round to sell them. This vendor growth has helped us provide a wide mix of stock for buyers which they have responded to very well.
Like so many countries in Europe, OEMs have begun to launch personal leasing brands to drive new car sales with the aim of helping consumers change their mindset from owning to leasing a car. OEMs hope to woo consumers to combat the recent tax increase.
They hope to make new cars more affordable by educating users about a monthly lease fee rather than paying for a car outright which historically is what they have done.
Current market performance
In 2016 756,938 new cars were sold in Turkey, a 4.3% rise over 2015, one in three (32%) of which were manufactured in Turkey. Not surprisingly because of the high levels of tax on new cars, 82% of cars sold were in A, B and C sectors. The C-sector comprised around 50% of all sales.
Automotive producers, such as Toyota, Renault, Fiat, Ford, have manufacturing operations in Turkey. The country's automotive sector was the biggest exporter last year with around $23.9 billion in exports, up from $21.3 billion in 2015.
On the back of this success there has been major investment in the country's transport infrastructure which will also help take away the focus just on Istanbul as the economic capital of Turkey. Better road networks will help spread the external investment to other cities and Autorola is playing its part by running regional online used car auctions in nine different cities.
It's all about local buyers being able to buy used cars from both local and national vendors. The response has been positive from buyers as they are getting the chance to bid on stock that would normally end up in Istanbul.
Typically smaller used cars between 50-60,000 lira are most popular in Turkey at an average age of 24 months/50-60,000km. Used VWs, Mercedes and BMW are popular as are the more mainstream models from Renault and Fiat.Putting a price on used
One challenge for the Turkish market is to know what used cars are worth. Until the recent launch of Autorola's INDICATA real time used vehicle pricing system in January the country did not have a used vehicle guide for the industry to refer to.
INDICATA will help both the OEM and local dealer understand the true value of used cars based on local demand and supply. The system takes a regular online scrape of websites advertising used cars and its dashboard enables a dealer or asset owner to understand the true supply and pricing of all used cars both nationally and regionally.
Dealers can use the data proactively to sell more used cars and importantly reduce stocking days. They will be able to adjust prices up or down on a weekly basis to ensure their used stock remains competitive and only buy in new stock that they know is in high demand. INDICATA gives the market the most dynamic insight into the used industry and OEMs and their dealers are already actively piloting the system.
For companies by far the most cost effective purchasing route is through leasing and this sector continues to grow, feeding in a steady supply of three year old ex-fleet stock into the used market. Tourism numbers are down after the recent security scares in the country which has reduced supply of the six-month-old used stock coming into the market. However the government is chasing new tourists from outside Europe such as China, India and Russia which will hopefully make up some of that shortfall.
Turkey is a rapidly changing country that is experiencing lots of different changes across all aspects of industry. The automotive sector is an important part of our economy and is well placed to continue to grow from a new and used perspective. Ultimately further maturity of the used market with dealers helped by the likes of INDICATA will ensure Turkey quickly catches up with other European countries.
Turkish economics
After a referendum in April, Turkey has turned its attention to reducing unemployment and increase industrial production. The initial signs are positive.
The economic recovery in Turkey continues to gain traction as political noise linked to April's referendum abates. Industrial production expanded for a sixth month running in March, while both consumer and business sentiment gained ground in the aftermath of President Recep Tayyip Erdogan's victory in his quest to transform Turkey into a presidential regime. Economic confidence has been rising in recent months as growth-inducing measures from Ankara continue to be felt among Turkish households.
In a bid to shore up Turkey's labour market – the unemployment rate rose to a seven-year high in January – the government also launched an employment campaign that is expected to be reflected in February's print and onwards. Although these measures will provide respite to the ailing domestic economy, massive government-led stimulus risks creating a hole in the state's finances, with the fiscal deficit already widening substantially in Q1.
Building on Q4's strong rebound, the Turkish economy is expected to prove more resilient than originally expected this year despite myriad headwinds. In addition, a narrow victory for Erdogan will ensure some degree of stability until elections are held in 2019, which paves the way for potentially higher investment inflows. FocusEconomics panelists expect the economy to expand 2.7% in 2017, which is up 0.3 percentage points from last month's estimate. In 2018, the panel expects growth of 3.1%.
Industrial production in Turkey rose by a calendar-adjusted 2.8% in March compared to the same month last year, well above February's 1% increase. According to the Statistical Institute, the acceleration was due to a better performance in the manufacturing sector and a smaller contraction in mining and quarrying output growth.
Industrial production expanded by 1.3% in seasonally- and calendar-adjusted month-on-month terms in March, contrasting February's 0.4% drop. Annual average growth in industrial output was steady in March at February's 1.3%.
FocusEconomics Consensus Forecast panelists expect industrial production to rise 2.4% in 2017, which is down 0.1 percentage points from last month's estimate. The panel sees industrial output increasing 3.0% in 2018.
Consumer prices In Turkey increased 1.31% compared to the previous month in April. The figure was above the already sizeable 1.02% rise registered in March and matched analysts' expectations of a 1.30% jump. According to the Turkish Statistical Institute, the rise was due to soaring prices for clothing and footwear, and food and non-alcoholic beverages.
The pass-through effect of the weakened lira has been felt since the end of 2016, driving inflation to multi-year highs. Inflation accelerated from 11.3% in March to 11.9% in April, the highest reading since October 2008. Annual average inflation rose from February's 8.2% to 8.7%, a near-two-year high.
FocusEconomics panelists expect inflation to close 2017 at 9.2%, which is up 0.1 percentage points from last month's forecast. For 2018, the panel sees inflation moderating to 8% by year-end.Information provided by FocusEconomics.