Finland dreams of electric avenues
Autorola's Brian Madsen Scandinavian brief extends to Finland. He explains how the country is looking to replicate Norway and increase its EV sales.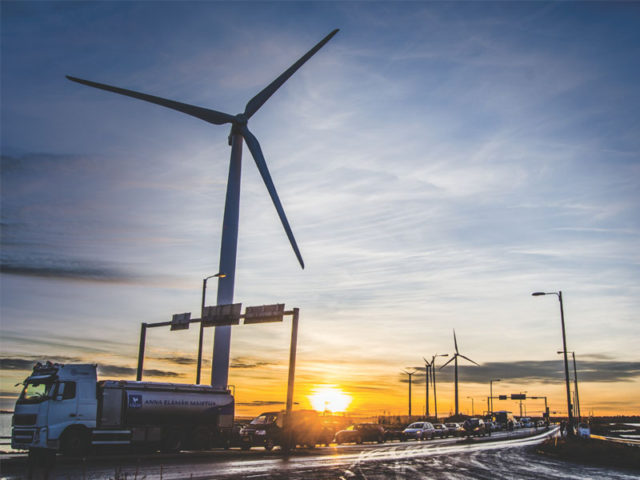 The Finnish government has viewed Norway's success in incentivising drivers to buy and own electric cars and is looking to mirror this with a €100 million investment in subsidies for electric cars. Over the next 10 years Finland wants to replicate the success of Norway which now has around 120,000 EVs and plug-in hybrids on its roads.
The Finnish government is considering offering a €3-5,000 subsidy on the first 20,000 vehicles to help reduce the country's fossil fuel consumption. Volvo Cars' announcement that it will introduce cars with some form of electrification across its model range, embracing fully electric cars, plug-in hybrid cars and mild hybrid cars comes at the right time to accommodate the Finnish government's vision.
Registration re-cap
New car registrations were 2% down in the first six months of 2017 with Toyota and VW dominating the market with a 13.1% and 11.2% share of the market. Toyota sales continue to go from strength to strength, up by 21% already this year.
Already 63,598 cars have been registered in Finland in the first six months, which means the annual target of 110,000 new cars looks well within reach.
Typically the country only imports cars, but Valmet Automotive has recently announced that its production facility in Uuskiaupunki has expanded to three shifts to help cater for the increased demand for the Mercedes A-Class and GLC SUV. It has also nearly doubled its workforce from 1,900 to 3,500 and it's still growing.Are EVs the answer?
How the move to electric vehicles will change the new car landscape is difficult to tell as the country only sold a few hundred EVs in 2016. The weather is likely to cause EV motorists some challenges as the range for a Renault ZOE is typically around 400km, but in the heart of winter temperatures do not get above zero in Helsinki from December to March which can halve an EV's effective range.
It will be a while before the used car industry starts to see used EVs arrive in any volume but currently the second hand market is very strong with 600,000 used cars sold. Profitability at €300-1,000 is healthy and the squeeze on new car profits to around €500 a car means dealers can only remain in business if they sell both used and new cars.
Typically the dealers run a very professional used car operations with many topping up their stock by importing used cars from countries like Sweden, Denmark and Germany via the online Autorola remarketing platform.
It's too early to say whether Finland could 'do a Norway' and reach the heady market share of its Scandinavian brother, but looking at the latter's experience would be useful.
Like Finland, Norway's electric vehicle success has been boosted massively by government incentives. In Norway, electric vehicles are exempt from car-purchase taxes as well as the 25% sales tax that is imposed on most other items. Drivers are able to plug in for free at municipal power points, they generally don't pay tolls and can use bus lanes to avoid traffic. On ferries across Norway's deep fjords, electrics travel at no cost.
The subsidies were introduced in the 1990s to support a fledgling, and never particularly successful, domestic electric vehicle industry. "There was hardly anything to buy," says Christina Bu of the Norwegian EV Association. The incentives were still on the books when more appealing, mass-produced electric cars such as the Nissan LEAF and the Tesla Model S came onto the market. "Suddenly the market expanded before politicians realised what was going on," says Bu.
So while some markets struggle to hit 3% with electric vehicle penetration, earlier this year that figure reached 37% in Norway. Over 4,800 plug-in electric vehicles were delivered in the country in January – helped by strong BMW i3 sales (622 units) and some PHEV vehicles such as the Volvo XC90 (398 units) and the Volkswagen Passat GTE (411 units).
Tesla also contributed to the new record now that it has firmly become a two-vehicle automaker: 129 Model S sedans were delivered in January and 238 Model X SUVs. Even newcomers such as the Hyundai Ioniq Electric also started contributing with 166 deliveries last month.
Finnish economics
The economy in Finland got off to an encouraging start to the year in 2017, with GDP growing at the fastest rate since Q4 2010 in Q1, according to data released in early June. Detailed national accounts data reveal that the recovery is fairly broad-based and well balanced, with private consumption growing robustly on the back of strong consumer confidence and fixed investment expanding healthily thanks to accelerating global trade dynamics.
The momentum seems to have carried over into the second quarter, with the Central Bank's output indicator accelerating in April. Yet economic conditions might have suffered from a certain degree of uncertainty in the political arena, as the government faced a threat of collapsing following turmoil in the coalition Finns party, which resulted in the party splitting in two.
In April, economic activity in Finland expanded a working-day adjusted 3.8% over the same month last year, a substantial increase from March's 2.9% increase as per the monthly trend indicator of output released by Statistics Finland. The result was driven by an increase in output in the manufacturing and construction sector while the agricultural sector also witnessed a pick-up in production.
A month-on-month comparison shows that economic activity increased 0.7% in seasonally-adjusted terms, an upswing from the previous month's flat reading. As a result, annual average growth in economic activity increased from 1.9% in March (previously reported: +1.6%) to 2.2% in April.
The Central Bank expects the domestic economy to expand 2.1% in 2017 and 1.7% in 2018. FocusEconomics Consensus Forecast panelists expect a much lower expansion, forecasting GDP to expand 1.4% in 2017, which is up 0.1 percentage points from last month's projection. For 2018, the panel sees GDP increasing 1.5%.
Early July saw Uber announce that it was to pull its primary taxi service out of Finland as it waits for a law to deregulate the market to be passed. The cab firm, which exclusively operates in the nation's capital Helsinki, is suspending its UberPop service, which allows any driver to sign up and offer unlicensed taxi trips. "We want to ensure that we do not pose drivers who use our app or our employees any unnecessary issues, especially now that we have a bright future to look forward to," said Joel Järvinen, Uber's country manager for Finland. "While we are looking forward to the reforms coming into effect, we have decided it is best to pause UberPop from 15 August until the new regulations allow a better environment," Järvinen added.Source: FocusEconomics