KAR completes acquisition of CarsOnTheWeb
Global remarketing giant KAR Auction Services has finalised its acquisition of Belgium-based online vehicle auction firm CarsOnTheWeb (COTW).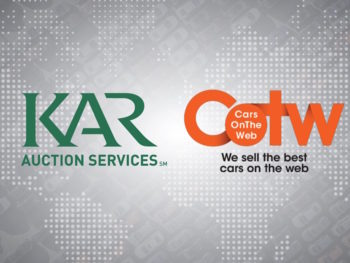 Announced two months ago, the deal advances KAR's international strategy and extends its North American and UK-based portfolio – its subsidiaries include ADESA Remarketing UK – to Continental Europe.
COTW has sales operations in Belgium, France, Germany, Italy, the Netherlands and Spain, and provides a range of vehicle auction, transportation and related support services; it provides VAT-compliant payment, document transfer and post-sale processes to support the 97% of customer transactions that involve cross-border sales.
The deal – which is valued at approximately €91m in cash and up to an additional €65m over a specified period of time contingent on certain terms, conditions and COTW performance – sees COTW become a wholly-owned subsidiary of KAR. The business will retain its current locations, employees and key COTW leadership and management team members.
"Now part of the KAR family, CarsOnTheWeb will help fuel our continued international growth with the power to deliver innovative, digitally connected services to our global customers," said Benjamin Skuy, KAR's executive vice president for international markets and strategic initiatives. "CarsOnTheWeb is already the leading cross-border automotive remarketing platform in Continental Europe. And together with KAR's technology, data, ancillary service capabilities and strong industry relationships, we will lead and accelerate the evolution of the European marketplace."