How driver assistance systems can reduce road risk for fleets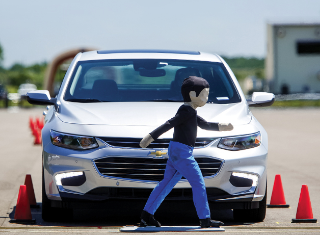 Fly into London's Heathrow Airport and arrange to be chauffeured into the centre of the capital by Tristar Worldwide and you will be travelling in safety; or as close to safety as you are ever likely to get on Britain's congested highways.
With operations globally as its name suggests, including in New York and Hong Kong, the company ensures that all its cars are equipped with cameras that monitor the behaviour of the driver as well as the road ahead.
All under three years old and possessing a minimum 4-star safety rating from Euro NCAP (New Car Assessment Programme), the European automotive safety body, the vehicles are fitted with blind-spot warning systems and AEB (Autonomous Emergency Braking). It uses camera and sensor technology to detect the speed and distance of objects in the vehicle's path and automatically applies the brakes if the driver fails to respond when danger threatens.
Frontal impacts reduced
AEB has cut the number of times Tristar drivers have had an impact with the car in front by 27% since they were first fitted says Peter Shaw, chief executive of insurance-industry-backed UK automotive body Thatcham Research.
He views its installation as a praiseworthy initiative. Thatcham is campaigning for vehicle manufacturers to fit AEB as standard and for fleets to specify it where it is available as an option.
"Equipping all new cars in the UK with AEB would result in deaths and serious injuries falling by 17,000 over the next decade," Shaw states.
He cites a pledge by 10 manufacturers active in the USA, including BMW, GM, Ford and Tesla, to fit AEB as standard, and challenges their European operations to match it if they have not already done so.
AEB – alert when you are not
"Volkswagen, Volvo, Mercedes, Nissan and Mazda lead the way in the UK with the highest number of cars on our roads with standard-fit AEB systems," he says, "However only Volvo has it as standard across all models."
The 10 US companies will be working with the country's National Highway Traffic Safety Administration and the Insurance Institute for Highway Safety (IIHS) over the coming months in order to create a timetable for implementing their plans.
"AEB can compensate for the mistakes every driver makes because it is always on the alert, monitoring the road ahead and never gets tired or distracted," says IIHS president, Adrian Lund.
Managing fleet safety
Specifying AEB and other safety aids is clearly not the sole reason why Tristar can boast an enviable safety record; one that won it two gold awards from the UK's Royal Society for the Prevention of Accidents (RoSPA) earlier this year. It employs a dedicated road safety manager, invests heavily in driver training and uses tracking technology to monitor speed and ensure drivers are taking proper rest breaks.
Tristar's health and safety regime is overseen by an influential health and safety committee whose make-up includes managers, administrative staff and chauffeurs who help identify any risks. Furthermore, it employs independent health and safety consultants to monitor the effectiveness of its policies in practice and deliver quarterly audits.
"We're always looking for ways to keep our passengers and chauffeurs safer on the road," says group chief executive officer, Dean De Beer.
Safety and cost benefits
A growing number of fleets are starting to adopt AEB and are beginning to specify some of the other safety devices that have resulted in certain cars being awarded a 5-star top-of-the-tree safety rating by the world's leading vehicle safety bodies. It is a trend that was highlighted by Thatcham research director, Matthew Avery, at last year's Global NCAP Forum in Melbourne, Australia.
"Among them are fleets operated by the Swedish and Australian governments," he told his audience. A private sector company that is taking the same route is Melbourne-based major-league mineral extraction company BHP Billiton.
Fleets like this are stressing safety because they are motivated by a combination of duty of care towards employees, corporate social responsibility and effective cost control, Avery said. As well as having often catastrophic consequences for the individuals involved, crashes cost cash.
Global NCAP Fleet Buyer's guide
The forum was held at the same time as the introduction of the Global NCAP Fleet Buyer's guide. It lays out best practice for fleet operators when selecting vehicles and provides guidance when it comes to sourcing cars that meet a high standard of safety.
In particular it recommends that fleet buyers opt for cars with a 5-star safety rating.
Global NCAP chairman, Max Mosley, said: "If a company provides a car for its staff to use then it should be as safe as is reasonably possible. A five-star or Top Pick safety rating is the best indication of this.
"It's prudent also to check whether cars also meet the UN's minimum safety regulations," he continued. "With so many global brands neglecting to apply them, fleet managers and company car drivers should not assume that basic safety comes as standard."
Earlier this year the Australasian New Car Assessment Programme (ANCAP) and the Australian Medical Association (AMA) joined forces to lobby motor industry leaders and the government to make AEB standard on all new cars sold in Australia. They are doing so under the 'Avoid the crash. Avoid the trauma' banner.
"While the number of people killed on Australia's roads is declining, road crashes are still resulting in around 1,200 unnecessary fatalities a year," says ANCAP chief executive officer, Nicholas Clarke. "Technology like AEB will go a long way towards reducing the number of fatalities.
Smart AEB systems
"What is more, the introduction of more advanced AEB systems which are able to detect obstacles such as pedestrians and animals as well as vehicles will contribute to a further reduction in the number and severity of crashes," he says.
ANCAP points out that existing AEB has been shown to reduce rear-end crashes by more than 38%. It adds that 90% of collisions involve some form of human error and that automated technologies such as AEB assist by removing the human element. Clarke goes on to praise Skoda for making AEB standard on all new Fabias sold in Australia. ANCAP has given the car a 5-star rating.
Treating AEB as part of the car in the same way that ABS or the wheels and tyres are is the key to ensuring its effectiveness.
"The difficulty with safety devices such as Lane Departure Warning (LDW) is that fleet drivers can find the beeping really irritating after a while," says one motor industry safety expert. "As a consequence they will switch them off if they possibly can, which means they're no longer effective and the fleet manager who has specified them has wasted his company's money."
The 38% figure cited above comes from research into low-speed AEB in particular conducted by the Validating Vehicle Safety Through Meta-Analysis group set up at the behest of Euro NCAP and ANCAP. It brings together experts from government, industry, consumer and insurance organisations who pooled data from five European countries plus Australia, using a standard analysis format.
Dr Anders Lie, group chairman of the Swedish Transport Administration; "Clearly AEB is potentially an important active safety technology and its widespread fitment throughout fleets should be encouraged."
"The Global NCAP guide rates vehicles with AEB as 'highly recommended' and those with Electronic Stability Control and pedestrian protection as 'strongly preferred'," adds Avery.
Drivers need information on assistance systems
Drivers in the USA clearly value AEB, blind spot detection and systems that improve night vision very highly according to the JD Power 2015 US Tech Choice Study. Blind spot detection is the second most popular safety technology among drivers according to a study conducted by the University of Iowa – the most popular is the reversing camera – which also revealed a widespread ignorance about what some of the devices fitted actually do.
Of those drivers polled, 65.2% admitted that they were not really certain about what adaptive cruise control actually does while 45.3% confessed that they did not fully understand tyre pressure monitoring systems. Almost 36% said the same about LDW.
"These findings point to a huge opportunity to improve safety by increasing consumer understanding of these technologies," says the university.
The lack of understanding has prompted it to join forces with the USA's National Safety Council to launch a new web site called MyCarDoesWhat.org with the aim of educating drivers about the new safety technologies on their vehicles. Fleet managers may wish to suggest their drivers pay it a visit as well as visiting it themselves.
Do driver assistance systems encourage risky behaviour?
In some countries fleets are becoming worried that some of the crash avoidance systems now being fitted may be counterproductive because they cause drivers to lose their focus on safe driving techniques. This concern was one of the key themes of the 2015 Fleet Safety Conference held in Schaumburg, Illinois, USA last July.
It is an understandable one given that people driving as part of their job suffered by far and away the highest total of civilian work-related fatalities in the USA in 2014 despite the increased accent on safety.
No less than 835 were killed out of a total of 4,679 job-related deaths according to figures published by the US Bureau of Labor Statistics. At 263, farmers and ranchers represented the next-highest category.
Distracted driving
The concern expressed by the conference is in line with growing worries about distracted driving and the presence of devices that cause the driver to take his or her eyes off the road and fail to concentrate on what they are supposed to be doing; driving.
In Canada a recent study by the University of Toronto suggests that augmentedreality heads-up displays on windscreens that can among other things alert drivers to hazards ahead can in fact cause them to lose focus on the highway in front of them; and that increases the risk of an accident. The danger that focus will be lost is especially the case in demanding driving conditions it adds; in severe weather for example.
In the USA one correspondent for the Detroit News newspaper has even gone so far as to assert that LDW encourages people to text while they are at the wheel on the freeway. They can tap away knowing that they will hear a ping if they start drifting out of lane says the writer, who refers to LDW as 'texting assist'.
He adds that research conducted by AT&T has revealed that seven out of ten smartphone users in the USA use their phone while driving; and that often means texting and emailing. Its 'It can wait' campaign is aimed at discouraging the practice.
"The partial technologies helping to get cars to the stage of fully autonomous driving may just encourage more dangerous driving," he observes.
If that is indeed the case then fleets will have to think far more carefully about what they want to specify on their vehicles, rethink their driver training policies so that the advantages and potential drawbacks of safety devices are taken into account and lay down strict policies on what drivers may and may not do while driving on company business. Sales people may be understandably anxious to stay in constant contact with key customers; but it must be made clear to them that doing so by texting while at the wheel is prohibited.