BP charges up forecourt network with Chargemaster acquisition
Chargemaster is to become a wholly-owned subsidiary of BP, as the fuel company looks to roll out a network of ultra-fast electric vehicle charging points at its forecourts across the UK.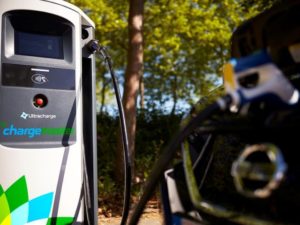 Acquiring the Luton-based company brings a wealth of electric vehicle expertise in-house, including the facilities to design and build domestic and public charging points, relationships with multiple vehicle manufacturers, and the 6,500-strong Polar charging network, which is said to be the UK's largest.
BP Chargemaster's priority will be extending that network to the fuel supplier's 12,000 UK forecourts, with the first rapid chargers set to be installed within 12 months. The network will include the company's Ultracharger 150kW charging units capable of adding 100 miles of range in ten minutes – three times faster than most of the UK's existing rapid charge network.
Chargemaster has expanded rapidly in recent years, including taking on many of the former government-backed Plugged-in Places schemes. In 2013, it won a tender to take on the Milton Keynes scheme, and last year it acquired Elektromotive, including the Charge Your Car network which had launched as the North East scheme, and taken over the Scottish and Greater Manchester Plugged-in Places points.
David Martell, Chief Executive of Chargemaster, said: "I am truly excited to lead the Chargemaster team into a new era backed by the strength and scale of BP, which will help us maintain our market-leading position and grow the national POLAR charging network to support the large range of exciting new electric vehicles that are coming to market in the next couple of years."
BP, meanwhile, acquired US-based FreeWire Technologies in January, aimed at deploying its portable rapid chargers at forecourts across EUrope, and it invested $20m in StoreDot in May, which is developing car batteries which can charge as quickly as filling a tank with fuel. It is also working with the Renault-Nissan-Mitsubishi alliance, to develop future mobility solutions.
Tufan Erginbilgic, chief executive of BP Downstream, commented: "Combining BP's and Chargemaster's complementary expertise, experience and assets is an important step towards offering fast and ultra-fast charging at BP sites across the UK and to BP becoming the leading provider of energy to low carbon vehicles, on the road or at home."
The BP Chargemaster acquisition closely follows similar moves by Shell, which added Dutch charging company NewMotion and British electricity supplier First Utility to its portfolio last year, as its first rapid charging points went live on UK forecourts and a hydrogen filling station was introduced on the M40.